Summary of EL YOLO (Currently registered in Colorado - USA)
elyolocamper@gmail.com
2019 Four Seasons Overland Vehicle - $219,000.
Built to travel the continents, conquer the roughest roads, and discover the most remote corners of the world. Totally self-contained, allowing you to spend time away from civilization without the need to hook up to electricity water.
Highlights and Features:
4x4 Conversion by Whitefeather
Camper box custom built by Twiga Travel Cars
Dodge Sprinter 3500 cab chassis 2007 PRE-DEF Diesel
30 Gallon Auxiliary Diesel Tank
55 Gallon Fresh Water Tank
High Altitude windows by Outbound with extra fine mesh against bugs and blackout blinds
110 Liter Fridge/Freezer
Bathroom with sink, toilet, shower and washing machine
Webasto Air heater
5 Gallon Boiler heated by Webasto diesel heater or Electric
Two AGM batteries with 220 Amp hours and two 295 Watt Solar panels
Queen size bed
Two burner gas stove and oven / toaster
Pass through hatch
Outdoor garage with space for three bicycles and other outdoor gear
Abundant storage space
Victron Electric system
Outdoor hookup for water tap and propane stove
Compared to Campervans:
Larger, more comfortable, and bright indoor space and still shorter than a 170" Sprinter Van.
Separate shower/toilet/washer area without compromising on storage space
Huge garage space for bicycles and other toys
No sliding door with cumbersome bug screen
Choice of indoor or outdoor cooking
Insulated camper-box vs metal heat box
Lots of big windows for good viewing and ventilation.
Complete EL YOLO information:
Miles driven since conversion - 30,000 - Total Mileage - 170,000
This expedition vehicle was custom build in 2019 and allows you to travel year round without ever visiting a campground, traveling the roughest roads and through hot and cold weather environments. If you are looking for a vehicle to camp at RV parks, this is probably not for you (although you will get a lot of attention).
2007 Dodge Sprinter 3500 Cab Chassis 3.0 Liter 6 Cylinder Diesel, Automatic Transmission
Dimensions: Length: 22.7ft, Height: 10ft, Width: 7.2ft (with mirrors)
4x4 Conversion by Whitefeather California:
- Conversion completed in 2018
- Weight Certification after conversion:
o Front Axle: 6,000 lbs.
o Rear Axle: 7,280 lbs
o GVWR: 13,280lbs
- 6 Inch lift or additional clearing
- HD Welded sub frame replacing the OE subframe
- Manual hub locks
- 6,000 lbs load rated Dana 60 Super mono-beam front axle with rear axle appropriate gear ratio
- Fox Racing steering stabilizer
- Open front differential
- Front disc brakes (approx.. 36% bigger than OE Sprinter)
- 2 Speed manual shift NV271 Transfer Case ( low gear is a crawling gear with transmission in low also )
- Oversized front (1.375" diameter) Roadmaster chromemoly sway bar with greasable poly bushings
- Custom valved ( V4 )Fox Racing gas pressure front and rear shock absorbers
- 17 inch aluminum wheels, steel inside rear and spare wheels
- Dana Spicer front and rear drive shafts
- Steel rear lift blocks, Tri-8 rear u- bolts,
- Aluminum font bumper with black powder coat and dual driving light ports, with grille guard
- Pair KC / ProComp 6 inch off road driving lights with standalone wiring harness, mounted in Whitefeather front bumper
- Eaton E-Locker locking front differential with Lucas oil
- Tires size LT 275/65R18E front and spare and size LT285/65R18E rear
- Additional spare rear wheel and tire on matching wheel (two spare wheels)
Camper Box: Built by Twiga Travel Cars in the Netherlands, a high end builder of custom overland vehicles
www.twigatravelcars.nl
- Measurements: Length: 13.6 Ft, Inside Height: 6 Ft,5Inches, Width: 7 Ft
- Camperbox completed in 2019
- This box is constructed with an aluminum frame with Twigaisolating panels© of 60 mm thick. These panels aremounted from the inside in order to guarantee no leakage and use thermal bridges. This construction is also to maintain maximal stiffness and insulation.
- 4 Outbound windows: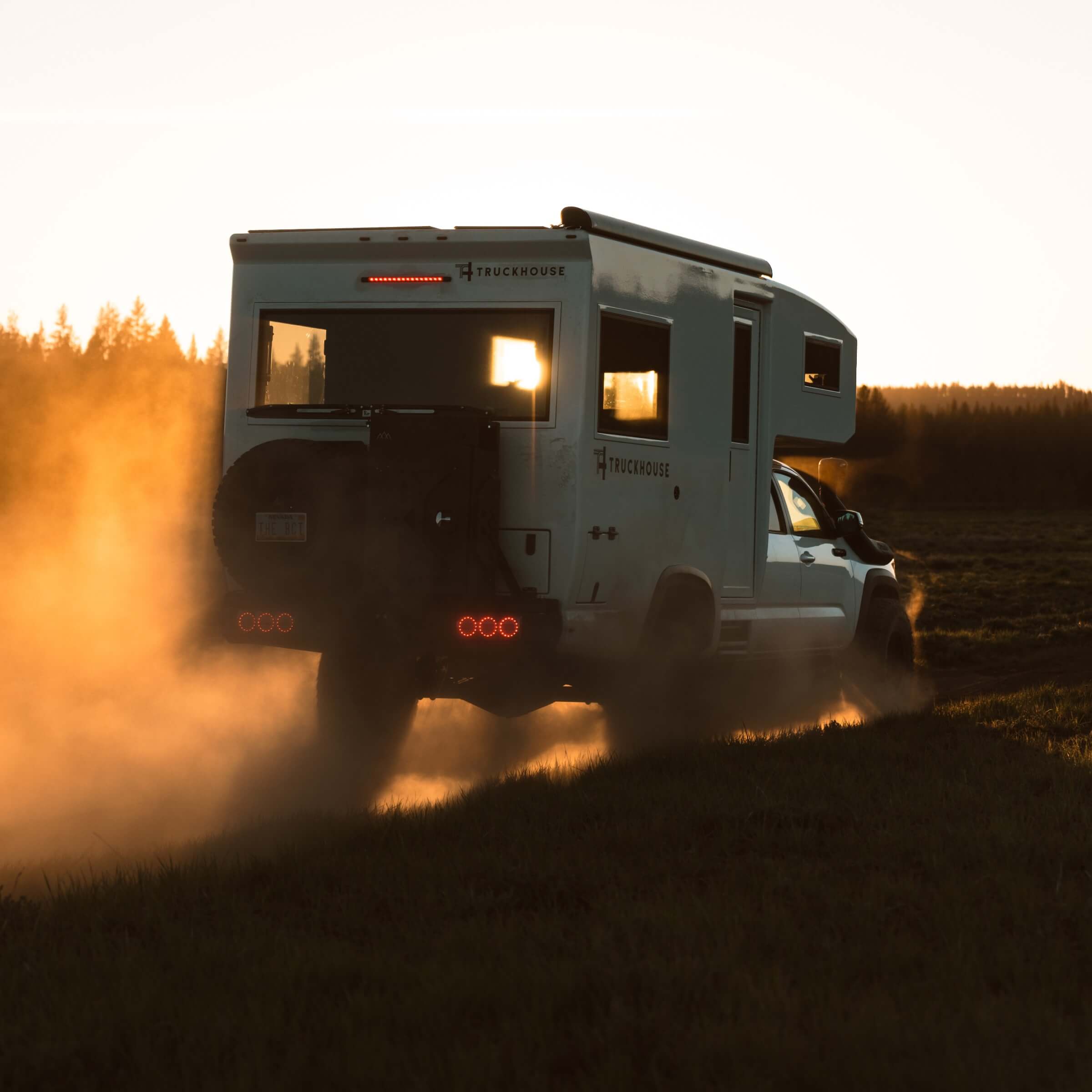 We develop and manufacture high quality yet affordable windows, skylights, doors and hatches for expedition vehicles.
www.outbound.eu
One window sized 990mm x 600mm (RA-40) and three windows sized 990mm x 400mm (RA-35).
- 1 Outbound Skylight above sitting area: 990mm x 600mm (DR-40)
- All windows have extra fine mesh against bugs and black-out blinds
- Armored plates to cover windows and hatches for safe shipping
- Outbound entrance door with mosquito screen and three point lock mechanism for additional security: 550 x 1700 mm (DE-10)
- Electronics
o Victron isolation transformer 3600W for the car.
o Victron Multiplus 12/3000
o 2 Victron solar panels, each panel 295 Wp.
o 2 Victron panel loaders, meeting all demands.
o 2 AGM batteries, 12 Volts / 220 Ah, charged by Solar panels, while driving and shorepower.
o Color panel, to inform you by laptop and/or telephone on the status of the system.
o Shore power connection and cable (15 meters), including adaptor.
o TS 800 separation relays.
o Three outside light, one on each side and one on the back.
o 12 Volts fuses group.
o 220 Volts fuses group.
o Dimmable LED lighting throughout box
o Euro/American 220 Volt Sockets, 12 Volt sockets and USB sockets throughout box
- Water Supply system:
o 224 Liter/59 Gallon Water tank
o Shurflo Water pump
o 24 Liter water boiler either on electricity (water can be heated while driving) or by Webasto water heater (Diesel)
o Two greay water tanks (one for the shower area, one for the kitchen sink)
- Heating:
o Webasto Diesel Airflow 4KW heater (Airtop 40)
o Webasto water heater (Thermo Top E): This will heat water in boiler and waste water in grey water tanks
- Kitchen Appliance:
o Two burner propane cooktop: Dometic HBG 2335
o Propane Oven/Grill with light and rotating plate: Dometic OG 3000
o Fridge/Freezer: Isotherm
o Sink: Reginox
o Seagull Waterfilter
- Bathroom:
o Shower
o Sink
o Thetford Cassette Toilette 263CS
o Gebo Skylight
o Daewoo Mini-washer
- Queen size bed (when fully extended)
- Seating area for 5 people
- Big Outside Garage that fits 3 Bikes and outdoor accessories with light, USB and 12 Volt charger
- Additional Components:
o Retractable Steps to access camper box
o Retractable Steps to access roof rack
o Rear bumper
o Roofrack for two wheels and tyres with lifting system on the roof of the Sprinter
o Thule 5200 awning
o Built in ARB compressor
o Rear view camera
o Outdoor kitchen:
▪ Propane hookup for two burner stove/grill
▪ Water outlet
▪ Detachable kitchen counter
o Outside lights on both sides of the camper box and in the back
o 30 Gallon Additional Dieseltank
o Storage space with one propane bottle, upgradable to two bottles
o 3 Additional outside storage boxes for tools and accessories
Repairs and maintenance done since the conversion (besides regular services like oil/filters/fluids etc)
All the parts below were recently replaced
-Steering angle sensor
-Torque Converter
-Resonator/Air intake silencer
-Starter
-Intercooler
-EGR Change over flap
-Fan/clutch assembly
-Turbo
-Turbo Intake pipe
-Turbo and PCV valve
-Flex pipe exhaust
-Backpressure sensor
-DPF sensor
-Exhaust upstream sensor
-DPF filter
-CDI engine module
-Boost pressure and boost temp sensor
-EGR cooler
-EGR valve
Last edited: