Short version: Reliable, turn-key, comfortable, go anywhere 4x4 van
.
$39.5k

War and Peace version:
Hello,
I purchased this van here on the forum back in Summer. We flew out and drove it home from WA to NJ in August... I spent about a year looking for the right van: Gas engine, 4x4, actual seating for four. I'm listing it now for two reasons, most importantly because my wife won't drive it ("I hate vans") and secondly because I've accepted another work assignment that means I'll be postponing retirement for yet another year. The compromise we've reached is that we've agreed to get a full-size pickup as our adventure / weekend warrior rig.
Original Listing:
E350 4x4 Quadvan - SOLD | Expedition Portal
Features of the build:
-Quadvan 4x4 conversion based on F350
-Dual Bilstein shocks
-Front ARB Locker
-Rear Sterling 10.5" (F350) axle
-Dual steering stabilizer
-Updated to the later F450 brakes
Replaced engine and transmission (swap also done by Quadvan)
-5.4l and 4R75E Engine/Transmission from a 2013 E350 with about 26k miles. The van body has just under 222K miles with the replacement engine being installed just a few thousand miles ago.
Exterior upgrades:
-Quadvan front brush-guard with in bumper winch (Warn M12)
-Quadvan rear in-floor storage box
-Aluminess rear bumper with swing aways and box
-Aluminess side steps/nerf bars
-46 gallon Transfer Flow fuel tank On-Board air system for locker, tires
-Quad captains chairs (rear removable) Rear bunk system
-Rear storage cabinet
-Flooring with L-Track
-Webasto furnace plumbed into fuel tank
-Dual batteries with National Luna charge system Inverter
-Charger
-ARB refrigerator
-Kenwood indash stereo with CarPlay option
-Security system
-New house battery
I've addressed the following maintenance issues since driving the van home:
The following parts were replaced or serviced:
Inoperative fuel gauge: Dropped fuel tank, found fuel pump spot welds had broken and sender was lying in the bottom of the tank. Replaced fuel pump assembly
AC not working: Recharged and serviced.
Rear brakes seized: both rear calipers replaced.
Front and rear brake lines replaced.
Front blower motor fan cage broken: replaced blower motor.
Rear on-board air conditioning inop (leak in rear line): Lines replaced and system now works.
On board air compressor inop: wiring replaced, system no works.
Keyless entry inop: all wiring replaced and system now works.
New house battery and all wiring and terminals replaced / updated.
New custom HD coil springs and leaves to replace the tired originals.
Full fluid service to include differentials (flushed and cleaned) all greasable parts greased.
As you can see, nothing earth shattering or unexpected for an 18-year-old van. As you'll see in the original listing, the motor is a low mileage replacement from a 2013 van, and it ran flawlessly all the way home. I have a feeling that if the AC had worked and the suspension hadn't been so worn out, my Mrs. wouldn't be digging her heels in over driving it, but such is life. I'm listing this and my Raptor at the same time (I need a longer bed). If the Raptor sells first, I'm going to try and keep the van a little longer and try to get my wife to fall in love with it. That said, it's for sale or trade right now.
Trades: Full sized pickups, sorted Land Rovers / Landcruisers and I also like adventure bikes, mountain bikes, rifles and Swiss watches (worth mentioning). Please note that the roof-rack is no longer on the van. My long-term plan, as mentioned, was a high roof. The short-term plan was to put some Frontrunner cross bars and a nice clamshell RTT up top. It seats four adults safely and comfortably and that would make it a four sleeper.
Pictures are from our trip this Summer from WA to NJ (via the Redwoods, San Clemente and the Rockies):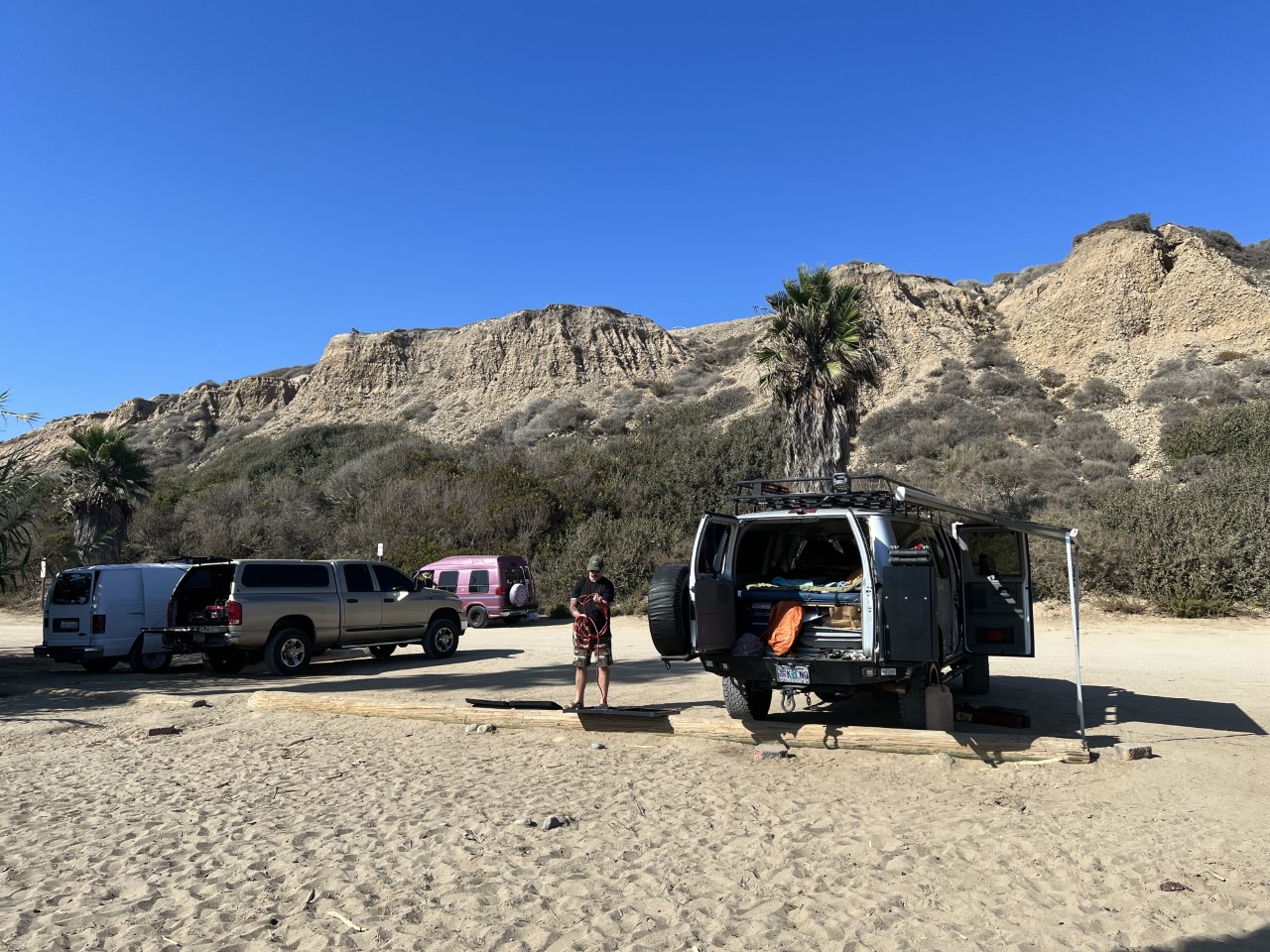 Last edited: