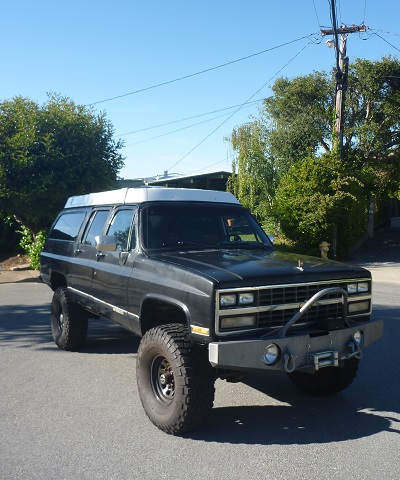 All,
This has been a project I have been thinking about for a long time. I always looked at flip-pac's, modded JK's and camper vans, and thought "man... what if!" But I never did anything about it. I have been camping and wheeling my 1989 Suburban for a long, long time, and my wife (who is amazing, and loves camping and roadtrips in the Suburban!) and I had it set up pretty well for us. Full size bed in the back, fridge, heat exchanger shower, full platform and the like. But when we welcomed our son into the world earlier this year, we knew that in that configuration (I had removed all the seats) it was a no-go. There wasn't enough room for all our gear, and to put the seats back in to hold his car seat, etc etc.
I originally thought "well... this is the end of the Suburban... we'll have to buy a Sportsmobile, or a quad cab truck with a slideout or some such." Neither of those are bad options, of course, but we just had a feeling we weren't done with the Suburban. It has been a great truck, and I love being able to fix in anywhere, and.. well... we just like it!
So I started thinking about how to get more space for sleeping, and more room inside. The "floorplan" size of the Suburban is roughly the same as a Westfalia camper, so I went over to Santa Cruz to the nice folks at Van-Cafe, and measured some things, and decided that:
1.) My truck would be a lot better with SWIVEL Seats!
2.) Not only would it rock, but a Pop top might actually work!
So I bought two sets of new Swivel Mechanisms from a Westfalia Vanagon and arranged to buy the whole "roof" of a camper van.
I figure the pictures will be what you really want, but some things first...
A.) I had help. A lot of help. My friend Robert at RAK Motorsports in Melo Park is a gifted (and patient) mechanic who also happens to be awesome with Fiberglas and loves a challenge. He did the vast majority of the work on the top, and without him, I'd still be "thinking about it".
B.) These pictures show it before the headliner is put in (I need to do a custom one, obviously) NOTE: see later posts where it is installed
C.) No carpet and a lot of the interior is gone in these pictures (I have a fresh carpet going in) NOTE: see later posts where carpet is in
D.) The "tent" isn't installed in these pictures. It fits the standard, stock Westfalia tent (I wanted that, so I could order a new one off the shelf). I bought a three window brand new gray one from gowesty.com and I will install it after the headliner is done NOTE: Tent is installed now and you can see it in later posts
E.) I have the OEM Black WESTFALIA stickers and will be installing them soon.
F.) The top is painted with White Boat fiberglas paint from West Marine
G.) The plywood bed might change slightly, depending on a few things. We made a "two hinge" bed, because we needed to account for changes in the height of the roof of the Suburban. Still deciding what kind of pad/mat to put up there.
OK, here's the pictures of the top! (see next post for swivel seats)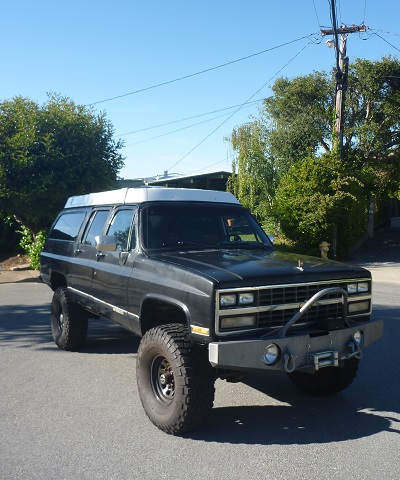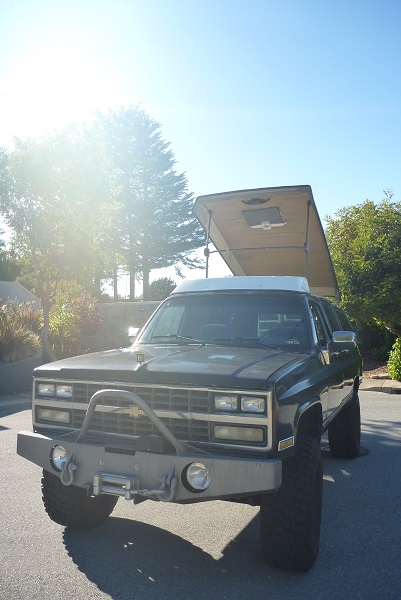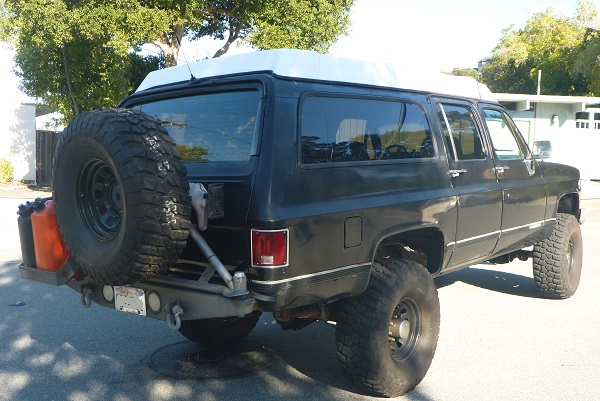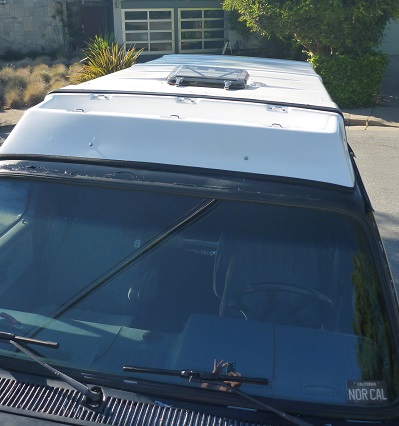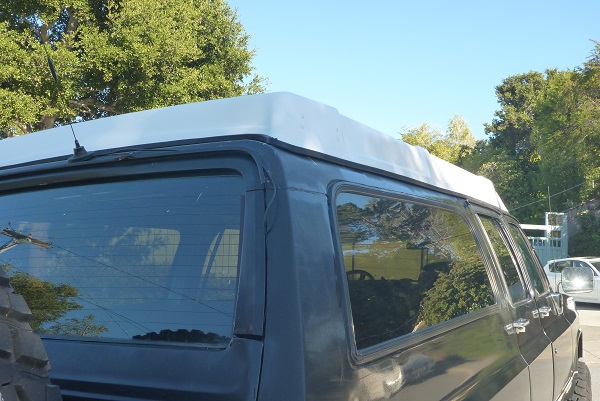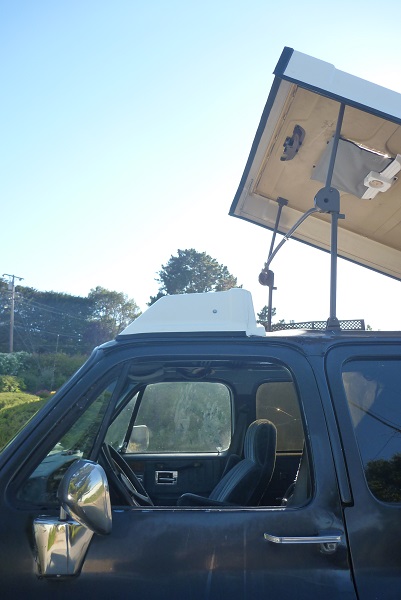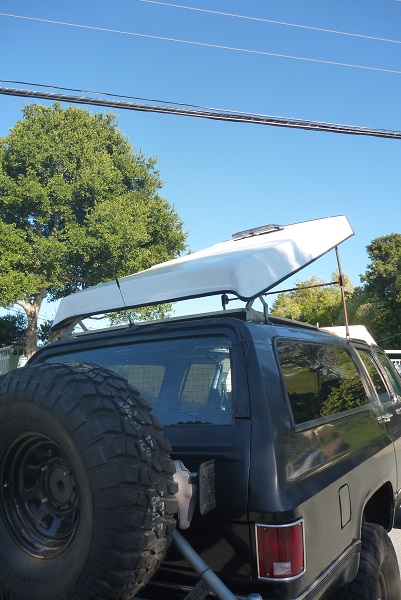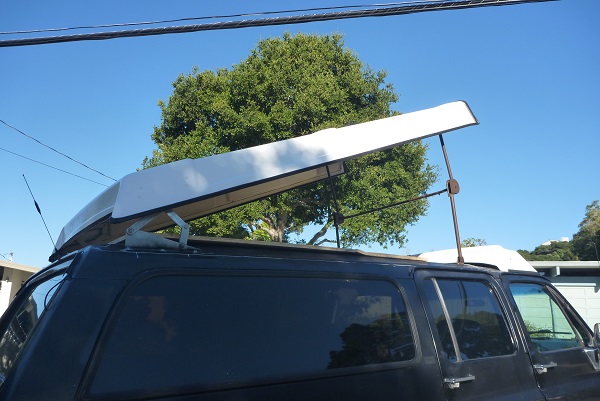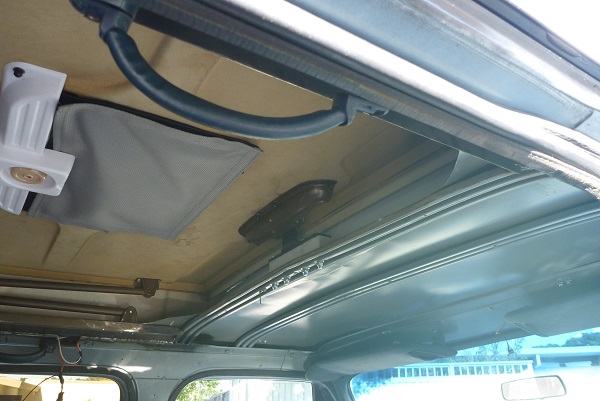 More next post....
Last edited: