Hey guys. I made this profile a while back ago but i havent had time to post anything due to being in school for the past 2 years. And now that i am finally finished and graduating as a Certified Surgical technologist and getting hired at UCLA hospital to work in the operating room i am finally going to have an income again. So now i can finally kick start my first build thread here on ExpeditionPortral. Some of you guys May recognize my truck from YotaTech.com or Instagram as my name there is also "Redeth005" I am still pretty new to fabricating but anybody that knows me will tell you that i can get extreamely creative and have lots of attention to detail when it comes to fabricating something. For instance on the times i built my front and rear bumpers.
http://www.yotatech.com/f88/redeths-89-4runner-custom-front-plate-bumper-fab-273271/
I guess i can be pretty handy when i have a project.
Anyway...
One thing that i realized i started wanting a lot over this recent year is having the need to explore! Being stuck in a classroom setting with very little off-road trips during that time really made me want to get out more. Not only that but during our sponsored BF Goodrich trip, by Internet Brands, last November (in 2014) (Part of Yotatech.com) i realized how much i liked overland stuff. itT wasn't even that long of a trip. IT was only from Barstow CA to Las Vegas NV. But that short trip But for a guy that normally goes Rock Crawling with the 4runnner i found this to be so much fun and it made me want more.
After Many camping trips i have realized how much i hate setting up tents.
Small tents like this one down below aren't too bad....
...but i'm just tired of getting super dirty all the time and uncomfortable floors even with my memory foam mattress toppers i am not too satisfied. Air mattresses get too hot or lose their air half way through the night. I just rather not deal with it.
I didnt give up there. I figured i would buy this cool Napier Sportz SUV Tent that attaches to the rear of my 1st gen 4Runner.
Here it is in the most recent trip for fathers day 2015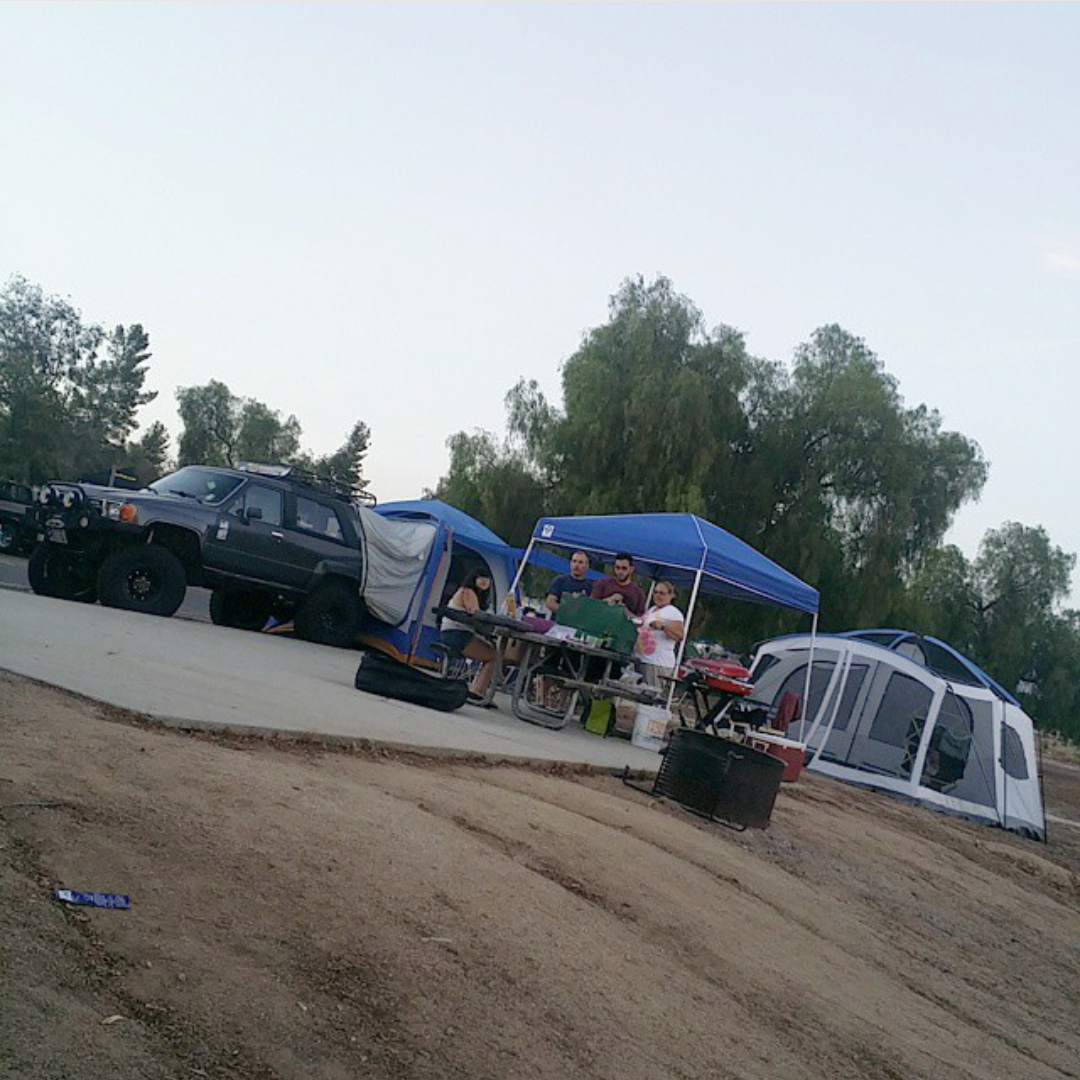 Pix from Before when the truck was still IFS and that suv tent in 2013.
As you can see this tent creates a nice seal around the rear of the body
This tent was awesome for the times i used it. but once i added the rear bumper that i built with the tire carrier i found that the swing out leans too much on the tent and will potentially cause damage to the tent.
you can see for yourself here:
One of the things i liked about this tent was that i could always leave the tent back at camp while i went off rock crawling and when i get back i could just back it up into the tent again and re-strap everything to wrap around the 4runner. Simple enough right? WRONG! i hate it. too many straps and too many hooks to properly seal everything. This tent is only good if you plan to stay in one location for a few days. But its a huge pain in the butt when you gotta come and go like i had to. You gotta redo everything and on the bottom side you literally need to go under the bed of the 4runner and strap things off good there too. Any mistake and the mosquitoes will be eating you alive! ANd rolling around under my truck on a dirt ground so i could mosquito-proof the tent is the last thing i want to do after a long day of wheeling. So that got my mind wondering. I began to research Teardrop trailers. Some which i found were pretty awesome. But none are ever built with a 29" size tire or larger. Biggest i found was 31" but the trailers are very simple and i question the integrity of the wooden build. So next choice is a rooftop tent. Well i own a 1st gen 4runner with a fiberglass top. and i want to be able to wheel still without being top heavy due to a roof tent. So that is out of the question. I still liked the ability to leave camp at the campsite and take off at a moments notice. So i finally had a mind set on what i wanted to build. I seen lots of people have offroad trailers.
Then I would see Instagram User: "Defconbrix" always uploading awesome pix of his VMI offroad trailer. I wouldnt mind buying one of these if the base model wasnt so dang expensive. So im stuck having to build my own. here is his tacoma and his trailer.
He has one of the biggest rooftop tents that CVT offers.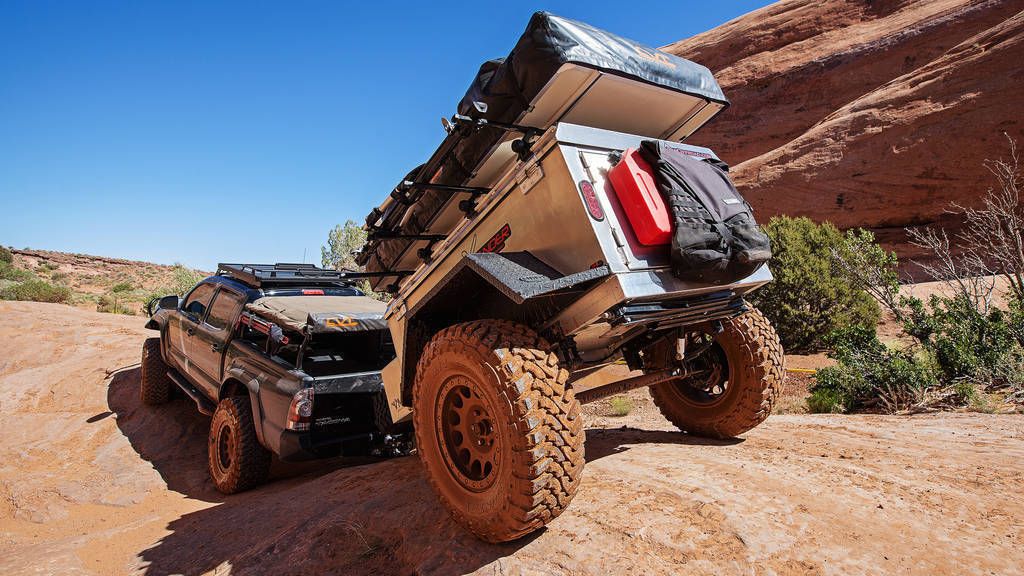 Also after researching home made builds i came across "Dirtco" and his trailer build on Yotatech and continued on a few other forums. Here is his trailer: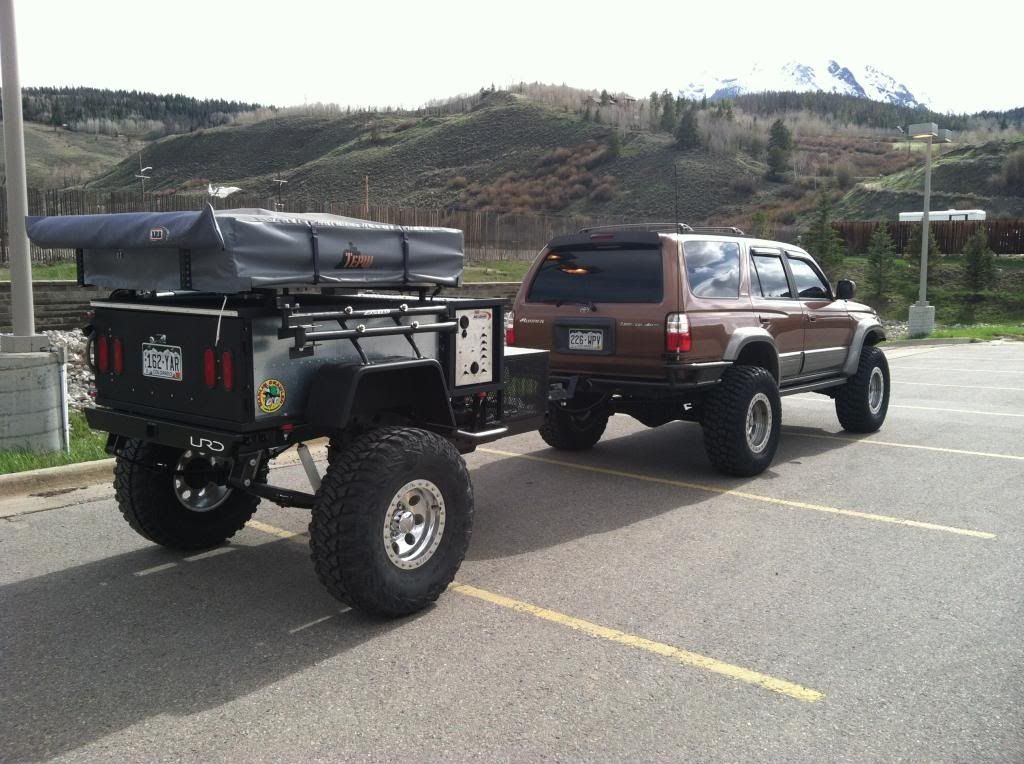 --->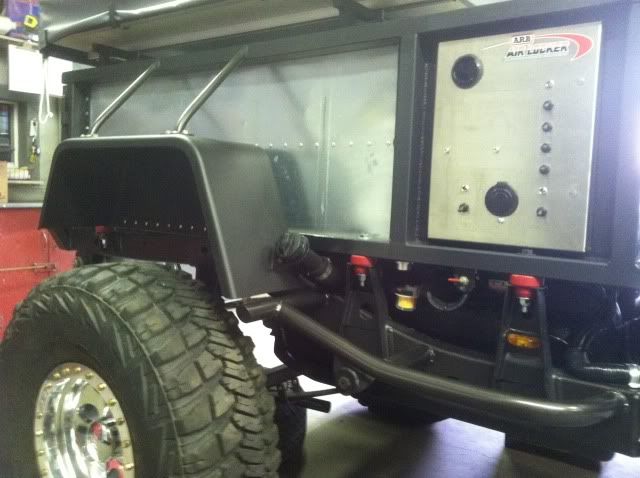 You can actually find Dirtco's trailer build Here:
http://www.yotatech.com/f88/my-camping-trailer-project-219053/
---------------------------------------------------------------------------------
So After much research and lots of drooling over these awesome builds it drove me to want to have a trailer project of my own. I figured i would take my time and get the main things to begin this trailer foundation for free. And luckily on instagram i have lots of followers willing to help
My buddy Ruben(Pisarunner on Instagram) Donated a near mint condition IFS 4runner chassis to me for free! He just made me promise i build something really cool with it and i intend to. This trailer has very minimal surface rust. Literally nothing that cant be wiped off with a rag. im very happy with the condition of this frame.
Also another buddy (LivingTheDream138 on instagram) in planning to donate his used, broken in 4" lift trail-gear leaf springs that now sit at about a 3" lift. Theyre broken in and he is planning to install his new ones in the next 2 weeks some time. and he told me that he'd let me have them for free as well once he has them off his truck. And I still have my old 4" shackles in the garage that i plan to use for this trailer as well. So far im off to an amazing start and what better way to start off with then a toyota frame as my foundation.
Last edited: