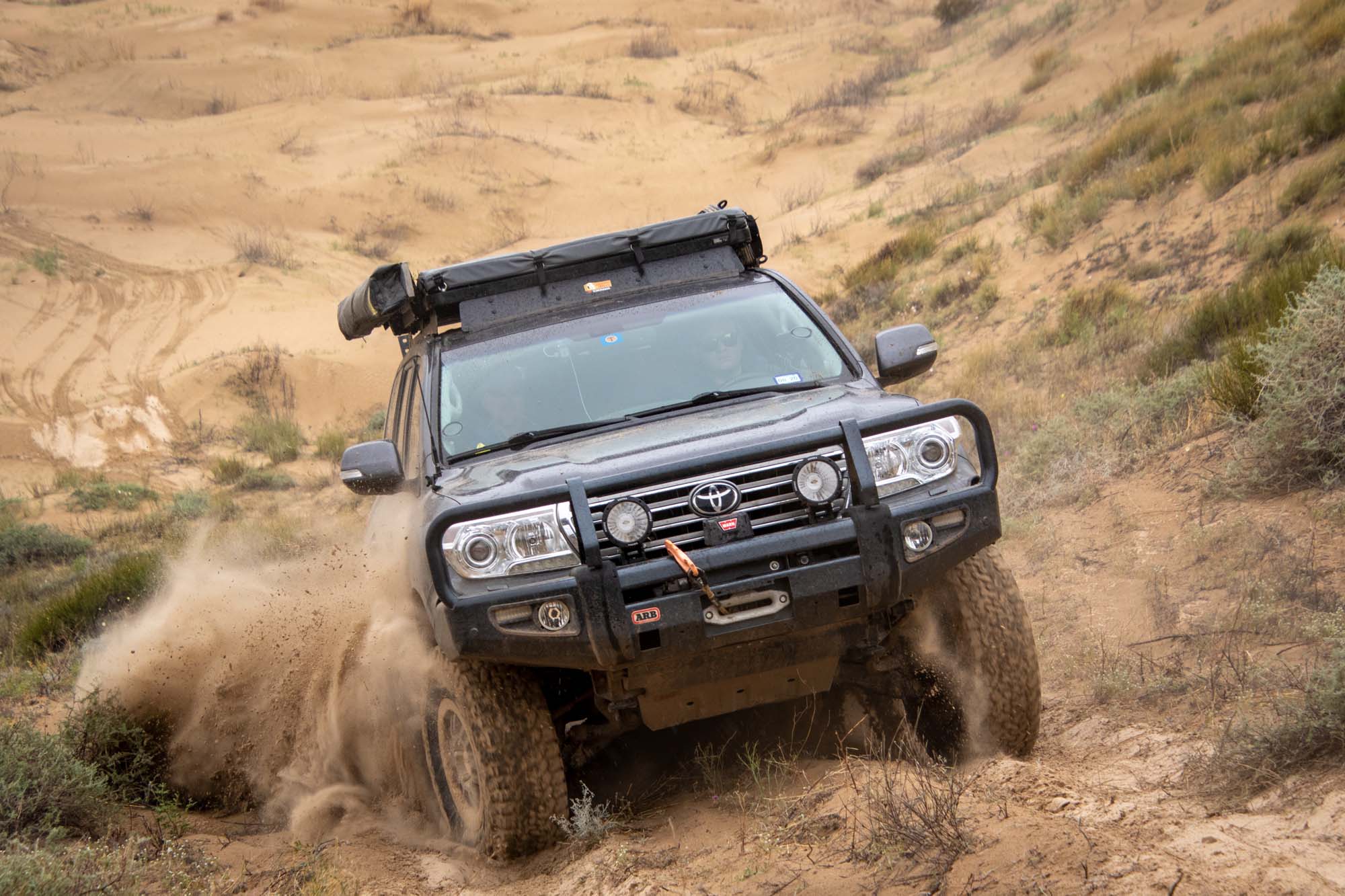 Photos - credit
@Chris Collard
Location - Salt Lake/Park City, UT

Price: $65,000 - FIRM
Most stock LCs in this year and mileage are selling for this or more. Title in hand, not interested in selling it for anything less than $65,000. If it doesn't make sense to you, please move on and save your time and mine. No need for negativity or passive-aggressive critique.
Mileage: 75,133
(as of 9/25/21)
Description:
I have owned and loved this vehicle for most of its life and have enjoyed all of it. I bought the vehicle with ~11k miles on it when it had a mild suspension system and wheels and tires. I have since made many modifications to the vehicle, going through several suspension systems to get it dialed in. I have also
sold
and repurchased this Land Cruiser to/from a great friend and fellow adventurer. While it is fun and functional as a daily driver, it seems that it is time for someone else to enjoy this awesome machine and use it for what it was built for. I have taken on several other projects and it is time to move on.
All maintenance and modifications were done at or by Toyota Dealers, Toyota Master Techs, or other highly reputable pros, no corners cut. I have retained nearly all of the receipts for labor and maintenance.
Modifications:
- Suspension, Steering, and Braking:
-
Fresh OME BP51 on all four corners
- Tundra front end (OEM parts) upper & lower arms, tie rods, axles, linkage, etc.
- OME rear heavy-duty springs
- Timbren bump stops
- Toyota Tundra big brake kit
- Stainless steel braided brake lines
- ARB extended diff breathers
- SPC rear lower control arms
-
Drivetrain

- Nitro 4:88 ring and pinion
- ARB air lockers front and rear
- Torque converter lock-up kit from Crusier Brothers
- 1.5" rear spacers to match front end width
- Tires and Wheels
- I have one set of (5) TRD Rock Monsters with BFG K03 285/75/17 that are over 75% tread remaining
- I also have a set of (5) Hutchinson bead-locks with Toyo MT 285/75/17 that are over 80% remaining tread life with some chunking.
- Protection and Recovery
- ARB front bumper with LED lighting kit, (adaptive cruise still works perfectly)
- Warn M12000 with MasterPull synthetic line
- Rear bumper mounts for Pull Pal and Hi-Lift jack
- ARB skid plates
- SLEE rock sliders
- Custom rear bumper/tire carrier with Expedition One latch and backup light
- Other
- LRA 40 gallon auxiliary fuel tank
- Moonlight raised air intake
- ARB twin air compressor - plumbed with quick connect chucks at the front and rear bumpers
- Front Runner roof rack with table and table storage system
- Lightforce cannons on the front bumper
- EZ Awn 270 degree awning
- Various USB ports and 12V outlets for charging devices, fridges, etc.
- Weathertech floormats
- I have an ARB rear drawer set and cargo barrier that are not currently installed but could be added for a fractional cost
- Electrical and wiring is immaculate
- Before you get too excited...

- Paint - this truck has been through lots of bushes - please don't expect scratch-free panels as there aren't any.
- Body - ironically, there are no dents on this Land Cruiser. There had been one parking lot incident where a tractor-trailer backed into the passenger rear door. No structural damage, but we did have the door replaced with OEM parts and had the repairs made by the Toyota recommended body shop
- Interior - some panels have scuffs. There are also a few (screw) holes in-dash panels where we had mounted and later removed things like dual battery monitors or radios. If you need photos, I would be happy to pm them to you. I am also open to having these repaired, just trying to be fully transparent. No tears in the seats.
- I have built this vehicle to be extremely capable across a wide spectrum. It is heavy, but everything works. I have loved every minute of taking it out into the unknown or taking trips down to Mexico to explore Sonora or Baja or the wonderful state of Utah. I wouldn't say it has been babied and it certainly hasn't been abused. I am OCD about maintenance and making sure everything works as it should. I have full confidence in selling this vehicle to its next owner and hope to stay in touch with them and hopefully share some future adventures with them and see how it does.
If this is the right rig for you, please PM me and I will respond as soon as I am able to.
Last edited: